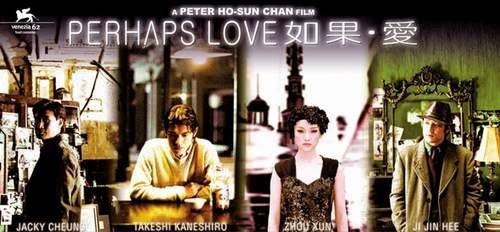 It has been days and yet this phrase and its melody still keep bouncing in my mind.
Tiuk virus liao
! :)

Directed by Peter Chan (陈可辛). Starring Takeshi Kaneshiro (金城武), Jacky Cheung (张学友) and Zhou Xun (周迅). Hong Kong. A muse appears in Shanghai to intervene in the lives of two actors living out a love triangle both onstage and off.
What I wanna say after watching this movie :
1) I wish there were more musical or singing scenes. I wish those circus scenes were to be played slower coz too
lao juak
, my eyes really did not know where to focus to.
2) The scene of Jacky Cheung's vocal performance (singing solo), made me think of the "Phantom of the Opera" straightaway! Why?! I guess it must be his costume hmm?!
3) "A movie -within -a -movie" story made me watch until
tao hin hin
. Too many switching of scenes made me confused. I only started to grasp the meaning of certain scenes or conversations after browsing through the "Perhaps Love" official website. Now only I realize "Oh , OK. that's the conversation for the 'movie-inside', not the 'actual life'.
Listen to the main songs, watch the MV and
korek
more on the storyline (the making of movie <制作特辑>) at
Perhaps Love (如果 . 爱 ) : <看 . 片段> Video Clips.
Another movie which I like from Peter Chan is
甜蜜蜜(1997) aka Comrades: Almost a Love Story.

Do you still remember this scene in 甜蜜蜜?!