Day 4 - Going back to Bkk from Pattaya. I showed 'face colour' to the tour guide liao, coz she spent so much time at the Gem factory, even longer then the other day's herbal factory!! The dry food market cut throat also, one pack selling RM15! chi sin! Who wanna buy?!
Safari Park at Bangkok. Wah....walked till beh tong loh. From one show to another got to walk damn far.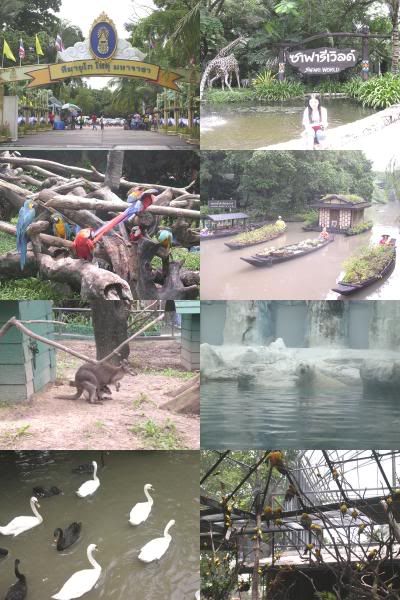 The Safari marine park. While waitaing for the show to get started, the DJ played an Indian song and got a bunch of Indian tourists entertained us all (at least 2000 persons inside here) with their dancing. The DJ lagi high, played again for the second time and they danced another round. We were all well entertained! :)



The James Bond 007 show. Speaking in thai language, so you just have to watch the explosion scenes enough, the rest *yawn*. ;)


We were given 2 hrs (5p.m. to 7p.m) to shop at MBK center nia nia!!!! Imagine lah yourself, mana cukup right?! All priced at '199 baht', '299 baht'...wah.......somemore the shops got soooooooooooooo many leh. Too tempting oi! So since we got limited time, then mah saved money loh. :)
Here's some of the things we bought. We bought bread and cake also for the next morning's breakfast coz we got to go airport by 4.30a.m.!
OK, going back to the same hotel we stayed during our first night at BKK.

At the airport. I was very impressed with the idea of their open kitchen restaurant alongside the walkway and also the idea of letting you see/ ronda till the very last station then only you go to the boarding gate (which were all located at one end of the wings), unlike our KLIA.