During the progress of renovation last time, we were thinking of using a portion of the extended part to become a second kitchen aka outdoor kitchen. Too bad it couldn't be done at last due to the space was occupied by plan B.
Now everything has almost settled down. It's been 1 mth already. It's time for us to find a way to add in this 'mobile' kitchen. It's been our dream since long long time ago to be able to
tua char tua boo
like siao at outside and don't have to care about the 'oil smoke' (油烟)problems at indoor kitchen!
We have been to the shop near our house to take a look at the cheap 'mobile' stove as well as make an enquiry from the stainless steel stove maker off Penang Road to make a proper one like restaurant/kopitiam use one with rollers that type.~RM360 vs RM1360 / RM1600 (depends on whether you want full board underneath or only bars). Argh! I understood from them that the price has jumped 3x since one year ago!
Today when I got back home, Oops! Lou ma chee has bought the cheap 'mobile' stove. Nah, this one loh, no roda at its legs one but it's actually very light only, can be moved easily. Ai........RM1k difference wor, what to do leh?!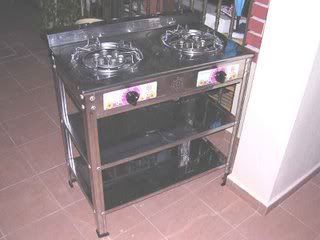 Don't care liao lah! As long as can cook outside don't care so much duh. Cooking kappa outside and don't have to care about the 油烟 or 刺鼻辛辣味! *just imagine this alone I also can yum yum zhui siew liao!*

Hope that my 'cooking mission' will be a success this year!