This was the fireworks that I could see from my house when the clock struck 12.01 for 2008.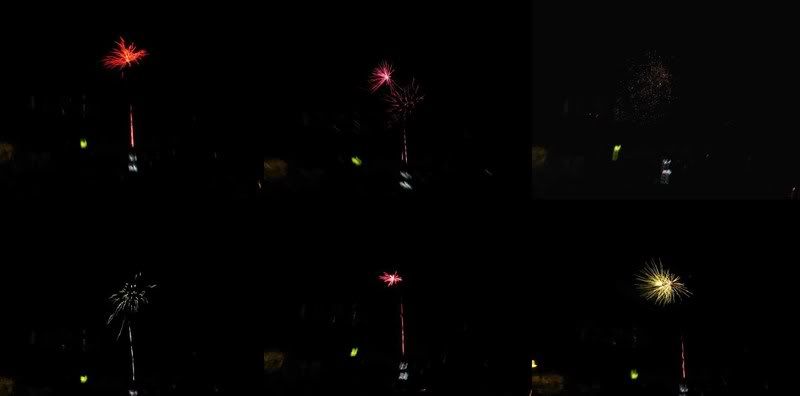 Last year NY resolution - FAILED...............almost semua! So hmm..... this year must I make somemore new year resolution boh leh?
Last year....
The house renov was completed and OK.
The cooking thing - yeah, alright....I know.....I won't beat you if you call me 'lame'.
The BGR - failed, call me 'lame', I don't mind. :)
The 'fnes' - failed to commit. Alright, I am completely 'lame'. :)
The out-of-expectation thing was - I resumed my travelling diligently after stopping for 2 f* long yrs.
This year - I think I wanna make only NY resolution quarter by quarter lah. Haha!
No more organizing for anything. Whatever I wanna try, I wanna go, I will go by myself or just a few of us, on ad hoc basis. *Yes, I am 'lame' I know...*
Whatever 'kang tao' comes to me, I'll GRAB it! Don't laugh, I know this is another pretty 'lame' thing for you to believe. Yes, as an Eng tutor to an Arabian. *You should know well that it got to be a 'GOOD PRICE' in order to make me chong2 chu1 jiang1 hu2. If not, choy lei tou sor! :) you thought I am so f* free ah. :) Well, if it can last for 3 mths, I'll treat you ppl for keng chao one. :) If no, pls keep quiet, malu! :)
The rest ----- don't ask me, no eye see. Walk one step, see one step.